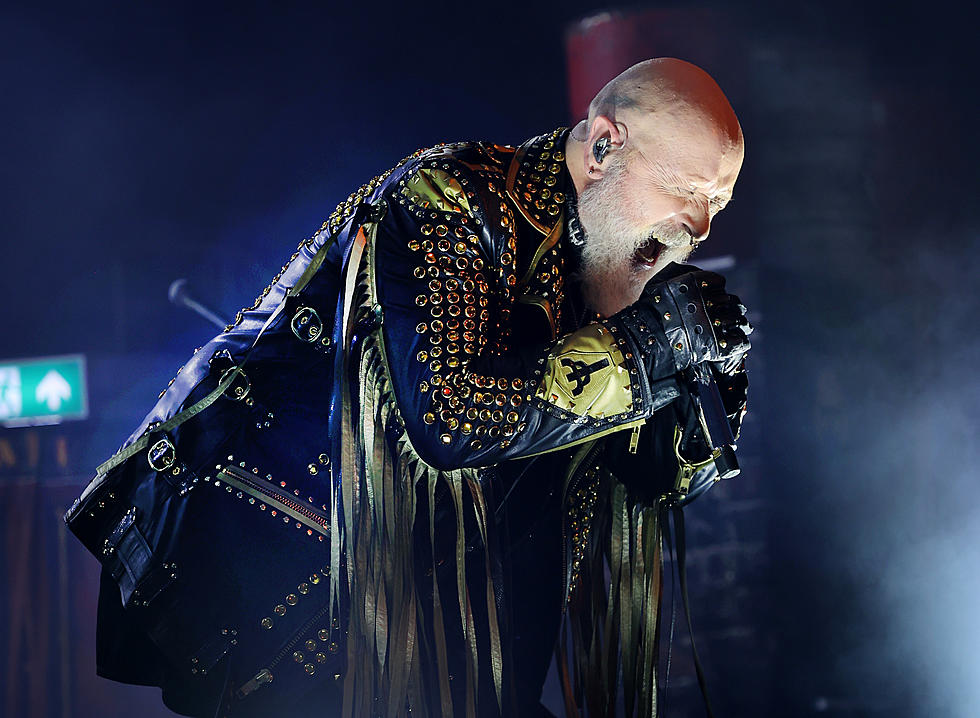 Just Announced: Judas Priest Invincible Shield Tour Coming to Evansville Indiana
Getty Images
One of the greatest bands in the history of rock music, Judas Priest, is set to perform in Evansville, Indiana in 2024. Keep reading to get pre-sale info and find out how you can win tickets!
Judas Priest on Tour
Rock legends, Judas Priest will be heading out on tour in support of the band's nineteenth studio album, Invincible Shield. The album is currently available for pre-order and is expected to begin shipping to fans on March 6, 2024. The band has released a lyrics video for the first song of the album, Panic Attack.
The clamour and the clatter of incensed keys

Can bring a nation to its knees

On the wings of a lethal icon

Bird of prey

It's a sign of the times when bedlam rules

When the masses condone pompous fools

And the scales of justice

Tip in disarray

Panic Attack

Panic Attack

Matters of fact fall on deaf ears

While the bitter mobs ramp up their fears

Go creeping round those corridors of power

As the dead heads gladly suffer sins

While the euthanising then begins

The clock is ticking down to doomsday hour

Panic Attack

Panic Attack

Alien nations gleam

Cybertronic schemes

Fibre optic mass hypnotic

Wild neurotic memes

Cynicism greed what you're fed

Disconnecting from the world wide web

It don't matter about your choice

Cause all you've got is an empty voice

And there's no way left to tell what's right from wrong

There's still time left to do what's right

Eliminate those parasites

And force your mind amidst the angry throng

Panic Attack

Panic Attack

Disconnect the system

Panic Attack

Panic Attack

Euthanise the brain

Panic Attack

Panic Attack

Blind synthetic wisdom

Panic Attack

Panic Attack

Digitally criminally insane

Panic Attack

Panic Attack
Fifty Years of Music
Although Judas Priest has been creating music for half a century, it has been six years since the world has been graced with new music from the band.
Invincible Shield is the nineteenth studio album by British heavy metal band Judas Priest. Announced onstage at Power Trip festival in California, the new record marks the band's first release in 6 years, having recently celebrated 50 years in music and 50 million records sold. Judas Priest is Rob Halford, Ian Hill, Glenn Tipton, Scott Travis and Richie Faulkner.
Judas Priest in Evansville, Indiana
Judas Priest, along with Swedish rockers, Sabaton, will head out on a US tour in 2024 in support of the new album, including a stop at Evansville's Ford Center on Friday, May 17, 2024.
More on Sabaton
Sabaton hails from Sweden and has picked up momentum as two of the band's albums gave been certified platinum.
Sabaton are a five-piece metal band from Falun, Sweden. Combining soaring power riffs with distinctive deep vocals, their lyrics focus on the exploits of war, from ancient historical battles to modern acts of heroism. Their electrifying live show – which features a full-sized and firing tank – has won numerous industry accolades, while two of their ten studio albums are certified platinum sellers.
Get Tickets
Tickets for the Invincible Shield US Tour 2024 with Judas Priest at Ford Center will go on sale Friday, November 17, 2023, at 10 am CST at the Ford Center Ticket Office and Ticketmaster.com. There will be a pre-sale on Thursday, November 16th from 10 am - 10 pm with code PEPPER.
Want to Win Tickets?
We will also have your chance to Beat the Box Office and win tickets before they go on sale. Just hang out with Kat Mykals on 103 GBF weekdays from 3 pm to 7 pm and listen for our chance to win.
The Best Song From Every Judas Priest Album
Eighteen tracks that prove the British veterans never abandoned their core principles.
Gallery Credit: Martin Kielty